That wasn't me, that was somebody else
I came to with a hammer and fire in my hand
I nearly burned it down
I see you, you monster;
see you lurking and showing your teeth
but you're the coward:
you just kill while you hide behind me
—
Oh God, am I the wolf?
Am I the wolf lying down with her?
'Cause his fruit and his jaws are strangely resembling mine
O Keeper, O River, O Vine
would You bind this darkness in me?
Can you kill him and somehow keep me clean?
The Breaking Yard was an acoustic duo with guitars and voices, the band's sound—while maintaining its intimate nature—has ramped up and evolved into a torrent of musical parts. The band of multi-instrumentalists uses the violin, hammered dulcimer, glockenspiel, drums, chains, electric guitar, harmonium, bass and 8-string ukelele to make a beautiful, yet powerful and robust experience.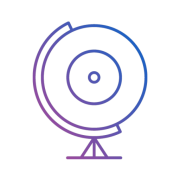 giveitaspin!
Give it a spin! is an award-winning independent music and culture website based in Thessaloniki, Greece. We communicate with all corners of the Earth with a global team of contributors and spin the world through the arts! Care to make some noise with us?