Well today we will start of with some grammar in use, as the band name triggered my optic neuritis, phosphene comes from the Greek word phos (light) and phainein (to show), and are induced by movement or sound, it actually is a phenomenon characterized by experience of seeing light without actually entering the eye.
So that sums it up, fluorescent dosage of indie pop probes into our ears with "Wild Decay" taken from Phosphene's new album "Breaker" out in April 29th. It's an excavation of violet squalls, a comeback from the deterioration of civilization that breathes in one's self-esteem. A lesson to learn, when you defend the love that comes out from you. It's an audacious track with an independent politeness, sparks full of fluidity strike the guitar in a cathartic way, and Rachael's beautiful voice fills up the nature of the journey with ethereality.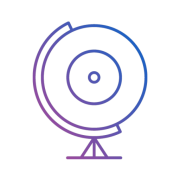 giveitaspin!
Give it a spin! is an award-winning independent music and culture website based in Thessaloniki, Greece. We communicate with all corners of the Earth with a global team of contributors and spin the world through the arts! Care to make some noise with us?