Life is genrefull! give5aspin! Seems like you guys loved the new column so it's here to stay!
Check out the first post
here.
Phinisey-Something New
Hip Hop | Soul | Electronic | Alternative Pop
Directed by Peter Berkley (http://www.helloartdept.com)
One of the Puget Sound region's most sought after hip-hop and pop producers and engineers, Tacoma native Phinisey has stepped out from behind the production boards and into the spotlight with "Something New", his first release as a solo artist. Soulful vocals, thoughtful songwriting and dynamic production. Time to get out, wear a breezy smile on your face and see if you bump into your eternal love listening to this! It's a feel good attraction, a positive vibe, you'll be needing on your summer playlist.
Latchmere
is a house producer formerly residing in London, now making Future House music along the sunny east coast of Australia! The weather always helps down under!
Good Winter
has come into our lives. Time for a crowded party. It's Saturday, my walls are down, my ears are high on bpm, and cranking this up to wake the neighbors for sure on the Rmx.
Twitter | Souncloud | Goodwintersound.com
Corrugated Tunnel Ft. Droze – When There Was House
Dance | Electronic | House | Future House
Vision Collective Recordings will release on the 4th of June, a deep-house hypnotizing anthem for this summer that recharges your batteries. Today, I might have played it at least 50 times in a row feeling young and free again! Corrugated Tunnel aka Edwin James is originally from Cork City, Ireland based now in Dublin and has built a reputation for producing beautifully crafted, melodic and deep electronic music. On this release he has collaborated with the Miami based vocalist Droze who provides warm and emotive vocals on the track. Go for it dj!
SANDY-Born Broken
Pop | Electro-Pop | Indie-Rock
See Also
SANDY, are a 3 piece from NYC, that formed in 2012. Last year they released a debut EP on Night People Records (USA) and will be releasing another EP with Monopsone (France) in September! Your in for some atmospheric minimalist synth pop that is contemporary in it's approach and comes with a depth rare for a band at their liftoff beginnings, they do know what they want from it all. Isolated feelings blend in with necessary warmth, a sense of something heartfelt and sincere. Honesty I should say is by far on the plate. Sandy is more serene than dark you'll stick on their planet for many warp years. They make me feel alive and take my fears away, even in the darkest night of nights. I really love how they blend the beats with the indie elements, making themselves an underground hype, yes I want to go to a concert and wear their t-shirt! Next on the playlist: a misty version of Chromatics.
Mei-Feles
Experimental | Pop | Electro
"Before I started doing music for real, I was training to be a dancer at the "Le Crazy Horse"-cabaret in Paris. My plan B was to work as an entomologist, an insect researcher". Have I got your attention? Mei is the alter ego of French newcomer/producer, singer, dancer and choreographer Caroline Masson. She does everything on "an ordinary laptop" but her results are far from ordinary! It's true that you can hear Kate Bush, Arca, Flying Lotus, Machinedrum, Bjork and Les Baxter talk to her consciousness but hey, I would love to make unique music with some of my favorites inspirations as well! Mei, is making us proud of the May #giveitaspin playlist. I've had weeks to hear something, exquisite and challenging with such butterfly beauty! You can find Mei's music on UOVOOO label run by electronic music innovator Markus Popp aka Oval. It's meant to be a colorful showroom for playful, gorgeous music.
"I treat music like a real being. I raise it like a little animal by my side, making sure that I leave its primary and wild aspects intact. I love the extremes. I love the unknown. I am not afraid of life. When I make love, I see landscapes".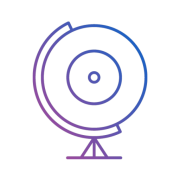 giveitaspin!
Give it a spin! is an award-winning independent music and culture website based in Thessaloniki, Greece. We communicate with all corners of the Earth with a global team of contributors and spin the world through the arts! Care to make some noise with us?