"The Fear" is the latest release off the 7 song EP by The Years, based on the culmination of all the fears in everyday life mixed with a thick hangover! The song features vocals from Ben Rothbard of the Palms/Terraplane Sun.
The group is known for emphasizing visual and lighting components and often prefer to be slightly obscure during their musical performances. Stay tuned to listen to the "Street Queen" EP during 2016 one of many upcoming collaborations. Cecil Campanaro (Terraplane Sun) and Brian Stanley (The Diamond Light) have got great style, every speaker would love to play for keeps.
#giveitaspin: even if The Years go by, they will stand to be the coolest around. Would definitely love them more and more as the day tunes into night. Electro vibes, guitar grooves and lyrical justice. Shake those fears, and dive into The Years!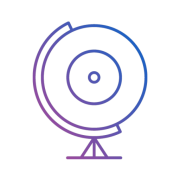 giveitaspin!
Give it a spin! is an award-winning independent music and culture website based in Thessaloniki, Greece. We communicate with all corners of the Earth with a global team of contributors and spin the world through the arts! Care to make some noise with us?