It's a giveitaspin August track

Barrie Cadogan has fronted Nottingham's inspired garage-surf-soul outfit Little Barrie since 1999, and, after moving to London in 2000 to work in a Denmark Street guitar-shop, has developed a reputation as the premier go-to alt-rock guitar wing-man for the likes of Primal Scream, Johnny Marr, Morrissey, Edwyn Collins, Damo Suzuki, Paul Weller (Little Barrie were the backing band on his '22 Dreams' album), Spiritualized, Anton Newcombe and The Chemical Brothers, amongst many others.
The Cobra Lamps is Barrie's first solo project and the self-titled EP . Word of The Cobra Lamps reached Anton Newcombe, singer of The Brian Jonestown Massacre and owner of his own 'A' Recordings label. "I loved the way, not just the records he does, but the way he puts them out and the way they're presented, the packaging and the artwork," Barrie enthuses, and Newcombe loved his EP in return.
Hence the EP's release in July, although there are no live dates planned for The Cobra Lamps as yet. Barrie sees the project as an outlet he can dip into to indulge his more esoteric side every now and then.Checking out of his day job for a while, Barrie's in a strange, beautiful place. And The Cobra Lamps are coiled to strike.
See Also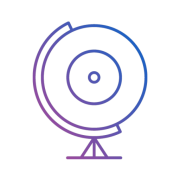 giveitaspin!
Give it a spin! is an award-winning independent music and culture website based in Thessaloniki, Greece. We communicate with all corners of the Earth with a global team of contributors and spin the world through the arts! Care to make some noise with us?