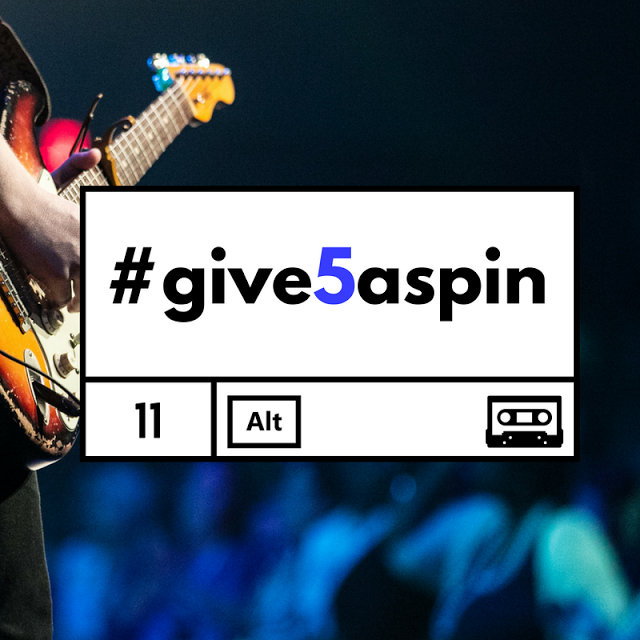 Hope everything is running well for you mates. We got a little bit lost on track due to a bad cold I had during the last few days, however it's time to wake up with a full on alternative tab on our next episode of E11 #give5aspin. It's the first time I can recall of a stable transition (the last years) from Summer to Autumn here in Greece and that's why our self's couldn't handle the weather I suppose although we can always manage the independent scene with care. Press play with some coffee or an extra beer in hand and enjoy the Alt vibes! Let us know what you think, share the love.


Handpicked for your tastes this week: La Panther Happens, Belly of Paris, Thirty Three Connection, Great Pagans, Albert Bevia


Scroll down for the full soundcloud playlist.


It's a give5aspin playlist
Enjoy the fresh E11 alt episode.
1 La Panther Happens – Tropical Slime
I can't find my baby she's tropical slime
Now that's one libretto I've never heard of again! An alternative indie volcano running through my mind. The five piece band from Tulsa, Oklahoma, La Panther Happens is a blend of garage, pop, soul and psychedelia. "Tropical Slime" comes from their latest album "For the night crawlers". If you check the whole album on bandcamp you'll be glad to find some extra special guest appearances such as Toby Vest (Tiger High, Shadow Brother) on acoustic guitar and some piano and Greg Roberson (Reigning Sound, Jack-O and The Tennessee Tearjerkers, Tiger High) on percussion.
[Facebook]
[Bandcamp]
[Soundcloud]
2 Belly of Paris – Aristide's Entry into Paris
Belly of Paris are an Anglo-Indo-Argentine-Palestinian-Hungarian band formed by musician Daniel Cochran after moving from the UK to Bahrain. If your a Matt Elliott, Nick Cave or a Divine Comedy fan you'll find some revolutionary peace with this unique doom pop sextet, however it's intended to shape out much more of what you listen to. The track comes from debut album Peste near your shelves in November. A musical statement of the ambitious and resigned, the avaricious and the meek. With imagined characters and themes drawn from history and literature, it's a spectacular album reflecting uncertain times driven by Nigo's bright brass and Prest's scuzzy tones, marshalled by Sharma and Villarroel, and creafted by Sharabi's soft soprano. Chochran's rich, word-weary barittone talent will follow you forever down a mystique lane of truth's to dare sing so.
3 Thirty Three Connection – In The Rain
Cameron Brisbane Photography
The Thirty Three Connection introduced themselves to the Edinburgh/Glasgow music scenes with gigs at most established venues in the capital and some minor festivals across Scotland back in 2013. A few years later they land on my ears like a meteor shower of piano driven indie rock with a dynamic like no other. They have just recorded debut EP with Mark Morrow at The Deopt Studios with help from Sinclair Fraser (guitar) and Ivan Rea (violin) it's all ready for you now to dig in. I've got these guys on my radar, they have themselves on a creative arc and are already delivering top level compositions with devotional ignition.
[Facebook]
[Twitter]
[Soundcloud]
4 Great Pagans – Cupid Untethered
Brighton, UK's brilliant Great Pagans have kicked off 2016 with a debonair single, "Call of the void", on their own Anti-Ghost Moon Ray label. Now they are back with "Cupid Untethered" their first of a singles series via the LA label, Manimal which I'm into so much lately. (Yoko Ono, Warpaint, Bat for Lashes). It's a droned out post-punk dance track with the undeniable presence of their Southern England roots deeply embedded in the wonderful music they create. If your looking for warm driven alt vocals with impeccable guitar slings these are your guys. Knocking the genre era on a full shimmering strike.
See Also
[Facebook]
[Twitter]
[Official]
5 Albert Bevia-Love is the only way
Albert Bevia
has a crystal clear vision of his music creativity. As an indie rock singer/songwriter from Segorbe,
Spain
inspired by the 80´s New Romantics sound and the Madchester era he's going to captivate your musical soul with his honesty and musicianship. I've picked
"Love is the only way"
from his debut EP which should be out in a few days on Amazon and itunes, where you can show your independent love.
giveitaspin!
Give it a spin! is an award-winning independent music and culture website based in Thessaloniki, Greece. We communicate with all corners of the Earth with a global team of contributors and spin the world through the arts! Care to make some noise with us?