The Deer Tracks after 3 years of silence are back with new album Undersvik. We are featuring Northern Man, that kicks off with a slowed down (Burial-esque) broken beat tempo in the distance, as if we are in a translucent mode, however, it seems to bounce into David Lehnberg's and Elin Skeppstedt's own magical footsteps of haunting sound intimacy.
There is a cathartic purity to this track, and I only wish it lasted longer to tell its tale. It floats away from its surroundings and then swirls together showing us the epic North of things. 


The Deer Tracks after several years of touring ended up in a mental and spiritual dead end. The interruption of touring was vital and the band sought out an abandoned school in the small village Undersvik, Sweden. Over a 10 days period, with outside world switched off, they just let the stillness and their own spirit color the lyrics and their sound. Undersvik is as much a result of the eternal insomnia of touring, as the tranquility and beauty of nature.
See Also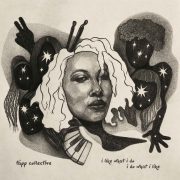 The vinyl is out on Lamour Record Label limited to 250 pieces without repressing, so you have to grab it soon! It's also via Knaften. It's on our May Spotify and Souncdloud playlists.
Niki
Hi mates! I am the founder, curator, and editor-in-chief of giveitaspin.gr ever since 2008, blogging daily! From freestyle Dj to Radio Producer in my free time, I love spinning music from all over the world.