In an organically refined fashion, Loose Buttons offers listeners a profoundly humanistic & subtly nuanced audial display. Via their new single 'What's On Outside', we receive a state-of-the-art retrospective of guitar-driven composition, as the atmosphere & arrangement plays like a lost memento; a dream you hazily misplaced. 
Luminous guitars backdrop sunsets, moons, stars, & the shift from day to night, as melodies play off the reflection like sunshine/ moonlight on calm waters. Rhythms shine in the colors of the spectrum, offering a broad foundation for such distinct exploration. If you've got that friend who says 'today's music sux!', consider playing them Loose Buttons & brightening their day.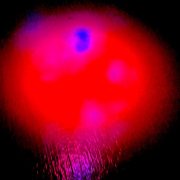 Charles Davis
Charlie is an audial adventurer, a cultivator of lands, and a time/space explorer. You can find him as @doghousecharlie or @greatwaveband on Bandcamp!