A cult icon. A poster boy for the dark romanticism that defined his band's music. An artist whose musical legacy is as enigmatic as it is profound.
For more than two decades, Ville Valo has been the driving force behind HIM, the Finnish Love Metal pioneers that took the world by storm with their unique blend of heavy riffs and haunting melodies.

His distinctive voice, a rich baritone that effortlessly blended melancholy with sensuality, became the signature sound of the band. With his dark, brooding looks and poetic lyrics about love, death, and heartbreak, Ville became a sex symbol for a generation of fans who were drawn to his magnetic energy. Greek teens were no exception.

As a teenager himself, Ville formed HIM with his childhood friends in 1991, marking the beginning of a long and fruitful course. Over the next years, HIM released a string of acclaimed albums, including Razorblade Romance —the band's breakthrough into mainstream success and a favorite amongst the HIM faithful—while he became a figurehead for a generation of misfits and outsiders.

His music is a celebration of life and love, but it's also a reminder of the fragility of our existence and relationships. And as time and familiarity can put a strain on even the strongest of friendships, HIM outlived their course and disbanded back in 2017, after a quarter of a century "of Love and Metal intertwined". But for Ville Valo, music is more than just a career. It's a way of life, a means of self-expression, and a journey of self-discovery.

After retreating briefly from the spotlight to delve into his past, Valo reinvented his work and himself (under the moniker "VV"). His invigorating take on Finnish rock history with The Agents in 2019, and the three-track EP "Gothica Fennica Vol. 1" released in 2020, showed that he still has things to say. With the same moody undertones from HIM's past albums, Gothica Fennica laid the groundwork for his debut solo endeavour.

"Neon Noir", an album he recorded, produced, and played all instruments on, goes beyond the conventional concept of "a solo project". It's a deeply personal and introspective work that showcases Ville's unique talents as a musician and songwriter. A true testament to his creative vision and his determination to push the boundaries of his own art.
As Ville prepares to take the stage at the Rockwave Festival (July 8), fans will be treated to a masterful blend of his past and present. With a road-tested setlist that strikes a delicate balance between his solo record and HIM favorites, Ville Valo proves that his music maintains its timeless quality. His powerful vocals and honest presence will undoubtedly once more captivate you, and take you back to a time when his voice was the soundtrack of your youth. So, dig out your heartagrams!

Follow VV: https://vv.tmstor.es/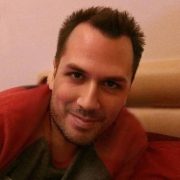 Tasos Papanagiotou
A seasoned creative copywriter in Advertising, completely gaga over all things music.