An interstellar adventure full of sentiment, intrigue, and iridescent storytelling, 'Glitter', the newest(-ish) single from Portland OR/ Salt Lake City UT-based dream pop band The Plastic Cherries, encapsulates the perfect aesthetic for our serendipitous place here in spacetime. Featuring a retro-esque, 80's-from-the-future vibration, The Plastic Cherries generate a stunning display of pop sophistication, as 'Glitter' is a piece of audial art simultaneously both easily accessible & pleasantly challenging.
From the rumbling drone of the drum machine to the compellingly resolute analogousness, 'Glitter' exists at an ambiguously elegant point between Kate Bush, The Cocteau Twins, Patsy Cline, & Vivaldi. With a wonderfully poignant vocal melody and an enigmatically mellifluous lead guitar, the performance is as compellingly emotional as the compositional structure is insightfully cogitated. Phrases move in colourful spectrums as they bounce across the contrapuntal, post-baroque movements. By the end, the driving factor winds up being replayability; upon each spin of 'Glitter' you discover something new – a new transformation – one you want to relive over & over.
Oh, and the whole The Plastic Cherries album is great. Check out 'Sunshine' from the top – and while you're there, further explore all fantastic work:
Buy on Bandcamp.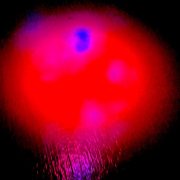 Charles Davis
Charlie is an audial adventurer, a cultivator of lands, and a time/space explorer. You can find him as @doghousecharlie or @greatwaveband on Bandcamp!