Jyrki Linnankivi is a creature of contradictions. Onstage as a deathless ghoul, he's towering above a crowd of freaks & monsters in his likeness.
But offstage, Jyrki is not the fearsome vampire you might think of. He's fairly… human, composed and approachable, regardless of his image or the stories of debauchery. I can attest to that. From getting in a cab car accident with him to joining a random wedding dance during the band's stay in Oropos, I have seen this man being generous and quite old-fashioned even when it's not expected. I first met him at Helsinki's Tavastia club for an in-depth talk, moments before their gig on NYE of '03, dazed and confused as a… pantheon of local stars came and went around us like it was customary for these rock gods to mingle with the masses. Jyrki kept me grounded with honest, detailed answers about The 69 Eyes and the bond that ties them together. And any words about bonds coming from a bona fide chemist (Jyrki holds a master's degree in Analytical Chemistry) are words of real substance. After all, the mix of glam & goth that he created a little more than 30 years ago has stood the test of time. And maybe this timelessness of art is what "eternal life" is all about.
---
Tasos: Hello Jyrki, and thanks for doing this! I'm happy to see the band entering a new era after signing with Atomic Fire Records. There's a lot of the Nuclear Blast roster on the label, so I guess this feels like home already for you guys. Let's talk about this change and upcoming releases. Is the new music going to sound like "Drive"?

Jyrki: Drive is pretty usual 69 Eyes shit: glammy street rock, dark vocals, a scream, a loud guitar solo, a catchy chorus, big city vibes and some radio potential. It was the first song written for the upcoming record; the rest are still being written. And again, the usual shit when it comes to how a regular 69 Eyes album should sound through the years. It's pretty diverse, but I think we're more focused on the production now since there's a new Finnish A&R team, also a German and an American team as well. We just aim to be the best 69 Eyes there can be, with more radio and playlist potential. We want people to hear us again!
Tasos: You've been together now for more than 3 decades. Back in 1989, you started creating this world for Τhe 69 Eyes that looks and feels really… familiar, even to those that haven't heard your music. How did you use this mix of references from tv, movies & books to mold your "comic book rock band"?

Jyrki: That was a unique and weird concept back then, at least in Finland, for many. I was naturally just following my ideas and used influences from all those sources like my favourite bands from my teenage years had done before. Just like The Cramps, The Meteors, Alien Sex Fiend and The Fuzztones. Later on, bands like Danzig, White Zombie and Monster Magnet, were doing something similar like I was trying to do, and naturally influenced us a lot. I had so many ideas and loved so many different music styles, so it took very long to find a person who could "listen" to the music in my head and manage to help us sound like that. That was our producer Johnny Lee Michaels.

Tasos: In a recent interview, someone described you as an "academic rocker," and people probably don't know that you work as a chemist and studied the field. But for me, that adjective has to do more with your general stance and values. You are a well-mannered rocker dressed in black that sings about "Devils"! Was finding this balance between light and dark important for your success?

Jyrki: I've lived my share of rock'n'roll life over the years, and I'm still happy to do so by being in a band and taking morning flights to different countries, to go on a stage in the evenings with my best friends and rock! I am also studying quite a bit after the stage lights go dim and the band is at home. I'm excited about this life on our planet and want to live it fully and know all about it. So I have my life values as well, but I'm keener on talking about the crazy and wild rock'n'roll lifestyle since it is more interesting and entertaining!
Tasos: "But unlike Manson, for me, religion is a haven." That's from an interview you gave for Kirkko ja kaupunki. Again, I'm curious: How can two acts inspired both by shock rock, be so vastly different on a subject like religion. I mean, is that you drawing a line here between Jyrki Linnankivi and Jyrki69? Is it important being kind and respectful even when it's not expected?

Jyrki: That is because, for us Christians (Evangelical Lutheran Church of Finland), our religious platform is very different from the Christianity that Manson was involved with as a child in Florida. Our upbringing has been more gentle, free and open. I remember seeing Manson tearing apart a Bible at his show in Stockholm, Sweden, in the mid-90,s and that had absolutely no shock effect on anybody since our relationship to Christianity is very different. As I grow older, I also find it (religion) very comforting and always interesting.
Tasos: The concept of time means nothing to vampires, but during the past 3 decades of band life, a lot must have changed. What things look different now compared to your beginnings? Is the passion and friendship still there?

Jyrki: Those are the most important elements! Also being still curious and enthusiastic about rock'n'roll, new bands, old favorites, the art form in general, helps. There's naturally so much more music coming from all directions in general but unfortunately, I don't see any competition or even similar acts like us! I wish there comes a new fresh version of us and wipes us out!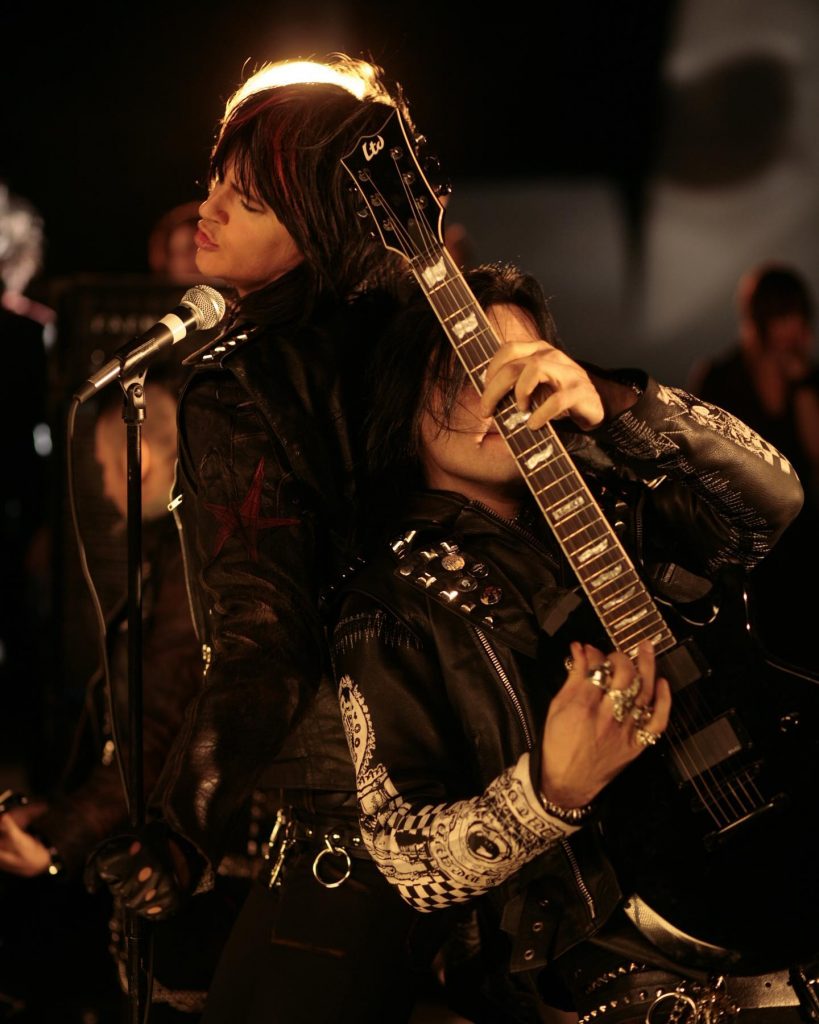 Tasos: Around 2006, coinciding with the release of the "Lost Boys" single, the Eyes made a… thundering crossover to the mainstream. Especially in Greece, the song was played in heavy rotation, and at the same time you opened for Marilyn Manson at Terra Vibe. How did you experience those years, travelling to The States, working with Bam Margera and "being on the playlists"?

Jyrki: That was our prime. All our (and my) rock'n'roll dreams came true in a couple of years, one by one! BUT I honestly believe that our second prime is just around the corner! It hasn't been like this, right now, for years after that 2006-2009 "Hollywood years".
Tasos: Over the years, we've met for many fan-related events, and I have very vivid memories. But what's the first thing that comes to mind when you hear the word "Greece"? Could be something concerning your gigs here or even something from personal vacation.

Jyrki: We were in a glam rock bar with the members of Korn, watching Toilet Böys music videos! They were good times! For all of us, Greece is a regular holiday paradise, but strangely, it has not been our regular touring spot.

Tasos: You went from late 80's glam punk New York to "Motor City", then Paris, Berlin, Los Angeles and "Jerusalem". If there were ever a 69 Eyes song about Athens, what would that sound like? Cheers, and I look forward to seeing you again soon!

Jyrki: That song must be written. All Western "Bildung"* is from there. I'm very interested in that!

*The German tradition of self-cultivation, wherein philosophy and education are linked in a manner that refers to a process of both personal and cultural maturation.


Stream or download the brand new single "Call Me Snake" here: https://the69eyes.afr.link/SnakePR
---