An iridescent reflection of conciliate light blankets the rippling water, illuminating the surroundings in a warm, blue-ish hue; a familiar, but distant comfort in the darkness. Much on your mind, nothing on your mind – SoulDrifter's piece, 'Moongaze', embodies these meditative emotions, ne plus ultra – flawless.
Minimalism in fresh & welcome terms, jazz piano samples from what was once a gentle, major key performance spin on their heads, in a looped, rainy day progression, while stunted cymbals try rising above the frame, only to be reigned back in by the thump of the kick/ snare. In true boom- bap study beat fashion, there is this droning, meditative quality that one might get lost in, with layers upon layers of labyrinthine subtleties for the informed & devoted listener to delve deeper. Still, it's the day to day motion that keeps this piece grounded – a thankful persuasion for our current out of character existence.
This relaxing bump was also recently included on Will Smith's YouTube channel as part of a new lofi hip hop mix series., that you can listen to, below!
See Also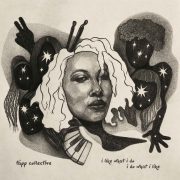 Charles Davis
Charlie is an audial adventurer, a cultivator of lands, and a time/space explorer. You can find him as @doghousecharlie or @greatwaveband on Bandcamp!