An accomplished actress. A vocal artist. A songwriter for a prog metal band. This may not sound like the Marlain Angelides you got to know during her Popstars days in HI-5.
As the lead vocalist of a superstar group put together (via corporate strategy) to perform for the local teendom, she catapulted to fame with an absolute jam you still know the words to ("Ksero Ti Zitao"), and left her mark during the girls' short-lived success in the early aughts. Since the group disbanded for reasons beyond their control, HI-5 posters stayed up for a couple of years as the perfect 00's artifact, while Marlain went on to live a life so eventful just reading about it, you feel completely inadequate. Thankfully, she never said goodbye to her singing career, taking on the mantle of Lez Zep's frontwoman to be recognized and complemented by Jimmy Page himself! Now, a little before she leaps back into acting for a feature film, she shares what she remembers from that time of touring, hit-making and "working the system".
---
Tasos Papanagiotou: Hi Marlain, thank you so much for finding the time to do this!
You're a previous vocalist of a top-charting Greek pop band and now singer for the all-female tribute to Led Zeppelin, "Lez Zeppelin". You're a multi-talented actress, singer, voice artist and performer, but I think you are just passionate about music and the arts, and you will never stop trying to figure out where your heart is. Has that been productive and exciting for you so far, or does it come with a dose of stress? Having to think about the next step.
Marlain Angelides: It is most definitely a passion a person cannot escape from! And thank you for the lovely words. I think being a freelance artist has its positives and negatives—many ups and downs. Nothing is perfect! It has more to do with what you can live with and what you cannot live without. I could never imagine my life without performing. So I have expanded my horizons within my skill set to encompass that!

Tasos: Tell me about you being born and growing up in Greece and Cyprus and then, if you'd like, about how you were drawn into music and theater during your studies in the UK.
Marlain: The story is I was born in Athens but moved to Venezuela when I was 5. Then moved to Belgium when I was 8. Then I went to Cyprus at 9 and stayed until I left to study in the UK at 17. I think the attraction started at my school. I went to Falcon School in Nicosia. They believed in drama classes and school plays/musicals and had one major production every year. As I grew at that school, I would join in for the fun of it, but as I started getting larger roles, I found I fell in love with singing and performing in general. But back then, we did not have social media. Being a professional performer was not an ACTUAL career path. Especially in Cyprus! So I went to study Biochemistry at Imperial College London. And suddenly, I was near the West End! Oh my goodness! It was a career! That ignited my passion and drive to figure out how I was to enter this career path of being on stage, especially as a scientist with zero training in the arts or music. Honestly, I have no idea how I did it. I had blinkers on… performing, it was the only choice for me during those years. I navigated myself through to a Postgraduate Dip in Musical Theatre from the Royal Academy Of Music, London and then the rest is history…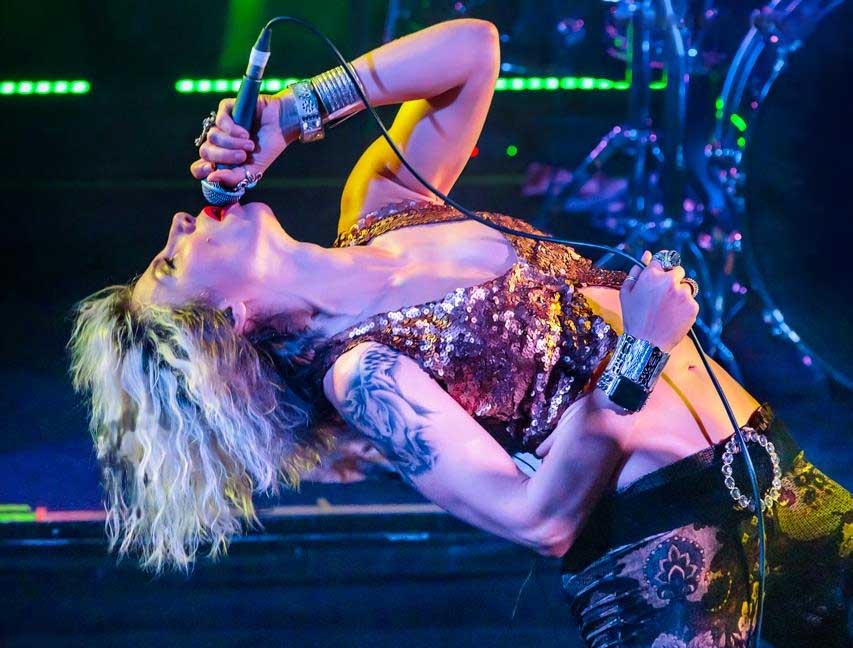 Tasos: In a recent interview, you said that this transition from being well-known to being "unknown" seems so vast to people that they can't always comprehend it. Let's go back to 2005 a little. How did you experience this change after Greek Warner was dissolved and Hi-5 came to an end?
Marlain: The whole Hi-5 phenomenon is actually hard to comprehend. Basically, we were celebrities… not artists. We were manufactured by a massive system. So personally, this was a huge realization. I felt uncomfortable with being a 'celebrity'. I wanted to be respected for my skill set, not because my face had been on TV. Also since we were created by the system, we NEEDED the system. We needed the media to keep us at celebrity status. Some people know how to work this system. I definitely do not. Because I wanted it to be real and true. And of course, there was no apparent interest in that. So I proceeded into the music world as a professional vocalist, supporting artists like Papakonstantinou and Hadzigiannis. There was also another factor at play because of the way Hi-5 were managed. The music industry thought we were all without actual talent! I had to prove myself over and over again, and each time I sang, people were astounded that I actually COULD sing, I wasn't just a 'glastra' (as they say in Greek). I cannot tell you the amount of people who responded with great surprise, AFTER they had shut the door plenty of times out of distrust producers, musicians, booking agents, other artists. And because of this 'label', I think all of us who wanted to pursue this profession seriously, suffered for a long while.
Tasos: I was rewatching your 2003 Lycabettus gig and I couldn't stop thinking about how unique this was for Greek pop standards. Do you have a behind the scenes story you would like to share?
Marlain: The whole thing was unique and no-one understood how much work was put into it. We worked our butts off to do this well and right. We wanted it to be exceptional. Well, I certainly did at the time. I can tell you something from behind the scenes too. We performed on beaches and outside areas with no real set up for live shows… so no real facilities. We had to change in the sand itself, and there were no bathrooms! It was not glamorous at all at times.
Tasos: There have been many talks of a reunion but so far nothing has happened, at least "officially". What are the reasons for delaying this, and do you think it's going to happen anytime soon?
Marlain: Remember…there are FIVE of us. So we ALL have to want to come together again. And unfortunately, not all of us want to. I personally think it would be extreme fun to do a re-union tour, but not all of us do.
Tasos: From one girl band to another. Something tells me you enjoy the comradery of being together in a group and sharing the experience. Tell me about how you came to join Lez Zeppelin.
Marlain: I knew from a young age I never wanted to be a solo act. I love a group setting. The power of all the people in a group directing their energy towards a common goal is unbeatable. Of course, most of the problems bands face have to do with that common goal not being as common as they believed it was when they started!
I had actually heard about Lez Zeppelin when I had first come to New York in 2013, but never thought there was a chance of ever getting in. I really came to NYC without any connections or plans. The way I joined the band was actually pretty surreal. Steph Paynes (the founder of the band) actually FOUND ME… unbelievable! In the whole of NYC, she saw MY profile online and asked me if I would be interested in auditioning because they were looking for a new singer. It is crazy when I think about it. I also had to figure out what 'channeling the spirit of Robert Plant' meant. It took about three auditions to get it right.
Tasos: The band uses the same gear and recording techniques, as well as vintage equipment used by Led Zeppelin. Spin Magazine called the band: "The most powerful all-female band in rock history" and you're even Jimmy Page himself gave the band his blessing. So it's authentic as it can be. What I want to know is if there was ever sexism directed at Lez and how vindicated you guys must feel nowadays that the concept of gender and sexuality is challenged.
Marlain: Steph knows all about this, as Lez has been around for a long time. She is the reason it has lasted this long and why people respond to it the way they do. And even though 'times have changed', we still get people doubting us before they come to the show. They are always shocked and their minds are blown! Their words, not ours. And yes, that does feel good when it happens, of course. But there are also some people who actually flat out refuse to come (but feel the need to comment on our posts, mind you), not believing that 'girls' can pull it off. To that, we say: we accept the challenge!
Tasos: Tell me about the process you came up with to channel Robert Plant and how much of Marlain is in there when you are performing.
Marlain: I love this question. Because the only way you really know that Lez is another band performing the music, is from the vocal. I am a girl after all. And our voices have a different quality than a man's due to our hormones. Fact. So the way I tackled this was to basically learn Plant's interpretations verbatim… initially. I had to understand what he was feeling when he made those sounds. Why was he moaning and shouting 'baby' multiple times in a song? It then started to dawn on me, how much he was absorbing from all the members of the band, but especially Page's guitar. It was like a 'conversation of emotion'! From there, it was like a springboard. I went with the flow and energy of the band. I use my personal energy within the framework of Robert Plant being affected by the sounds of the band. I do not 'sound' like Plant… he is completely unique and one of the biggest influences on rock vocals, male and female, to this day. And Zeppelin really was all about the energy. I believe this is why it works.
Tasos: From "the land of ice and snow" to…Disneyland! Probably the polar opposite of being a rock 'n roller is being the singing talent behind an animated character. I know you've done some really great work lending your voice to Disney, Dreamworks and Mattel. How challenging was it to sing and act on those projects?
Marlain: Ha ha ha. Yes, I do love variety. And have always had the skill of being able to change my voice, especially singing-wise. Those dubbing projects were from when I was in Greece. I always saw it as a fun challenge. I had to 'voice match' in Greek with an American singer. Copy their inflections and sounds.Fun fun fun.
Tasos: As a voice artist working in advertising, you know how concise and compact ads have to be. So my last question is: If you had to narrate a short promo about yourself, how would that sound like, and what would it include?
Marlain: I am terrible at self-promotion. My social media profiles allude to my occupations of singing, voice acting, and acting, loving dogs and Shakespeare and Progressive Melodic metal. And fitness for mental health. Maybe you can write a promo for me? 😉
---
Follow Marlain Angelides for more updates: https://www.marlainangel.com/
& on the official channels: Youtube | Facebook | Instagram
Follow Lez Zeppelin: https://lezzeppelin.com/