The instrumental band outfit Drahthaus, came flying on the IDM scene and released their first album in April. More than a band, the  Drahthaus Kollektiv was founded in 2015 bringing creative people together in Vienna (musicians, artists,  designers, filmmakers, technicians, programmers, artisans, organizers), pushing the creative boundaries for innovation further.
Featured track Clés builds up on the dancefloor, with layers of sophisticated sounds – stacked up chords, timbre, trumpeting, and percussions. It is a rewarding architecture of musical influences and traditional material under one roof. The acoustic effect is mesmerizing, carving out a path full of sweet momentum. It is such an ear pleasure to watch them play live (see below).
See Also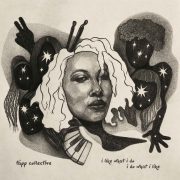 The collective sees itself as an organization that aims to wire and rewire the abilities, interests, ideas, and approaches of its members, followers, and sympathizers to all sorts of constellations to deliver innovative output in the fields of art, technology, media, and society.
Get the album here.
Niki
Hi mates! I am the founder, curator, and editor-in-chief of giveitaspin.gr ever since 2008, blogging daily! From freestyle Dj to Radio Producer in my free time, I love spinning music from all over the world.