Hannah Moule and The Moulettes return with their fifth studio album and it is by far their most ambitious studio project.
This band wears its diversity as a badge of honor, with plenty of playful glittering exposition into what is to come from the full Xenolalia pentalogy. In terms of musical reference Xenolalia,  is a collection of 55 pieces of music: 11 songs about communication, told 5 different ways. It is clear that we are moving through the Electric phase of the Venn diagram with our jaws dropping and ears open wide with plenty of ideas to digest. As the greek alphabet and other languages define through the official video their statement for a better dialogue and understanding, the brain of the viewer is still stuck on the wizardry and theatricality as the best of the Moulettes has come!
With touring schedules interrupted the band will be releasing 55 pieces of music, divided into 11 EPs released digitally once a month.  It will be up to the Patreon subscribers to decide what goes on Vinyl when the band starts touring again in March 2021. You spinners know what to do!
Find more on Facebook, Twitter, and Instagram.
See Also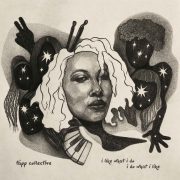 Niki
Hi mates! I am the founder, curator, and editor-in-chief of giveitaspin.gr ever since 2008, blogging daily! From freestyle Dj to Radio Producer in my free time, I love spinning music from all over the world.