Cleanse your senses & refresh your palate with the dreamy indie rock guitarscape of 'Hopes & Horoscopes', by Des Moines, IA duo Elison. Whether you're feeling the weight of winter, the heat of summer, or an ambiguous milieu, this is an enlivening & invigorating tonic for your heart & soul.
Featuring some truly fantastic movements & otherworldly melodies, there is a boundless world manifested via this 4-odd minutes of indie-pop. 'I've been missing people I've never met', effuses vocalist/ guitarist Melissa, as multi-instrumentalist Scott enshrouds the landscape with glistening, shimmering guitar phrases & cautiously optimistic synthesizer jaunts. Multiple twists & turns draw enthusiastic attention, as the home base refrains of chorus offer respite along the greater escapade. Artfully crafted, unapologetically honest & approachable, & distinguishably unique, there is a direct-yet-mystical humanism within that coaxes even the most reluctant.
A relatively new act, Elison has already created a masterpiece of composition & sonic texture with 'Hopes & Horoscopes'. Sure to have more wondrous ventures on the horizon, this is a band worthy of your further attention – stay tuned in for future artistic excursions:
Bandcamp
Spotify
TikTok
Instagram
Facebook
Soundcloud
YouTube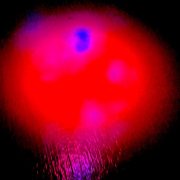 Charles Davis
Charlie is an audial adventurer, a cultivator of lands, and a time/space explorer. You can find him as @doghousecharlie or @greatwaveband on Bandcamp!