5 handpicked tracks to fulfill your Daily Music Discoveries!
giveitaspin for Ted Taforo, Samuel Orson, Bluebirds, Weinf and The Warp/The Weft.
Each day we #giveitaspin to find everything that makes us genre fully happy.
Ted Taforo – Who Will
Ted Taforo just released his latest single, Who Will. If you go through the lyrics you can really dig in the greater social picture stated within. The track begins with a catchy synth progression, followed by a thick bass patch and continues to unfold a truthful bubbly rhythm. It really shines for me after the third chorus with an immaculate sax solo. Pure radio friendly to my ears, I'm just fantasizing Moloko in the background. Could have been a great duet in another world. Pop memorability with jazzy influences bringing on those quirky Ariel Pink and Har Mar Superstar vibes! I'll be waiting for a unique Ted Talk in the near future, this musical artistry has a special place in the independent music making of the future-retrobeat era.
Samuel Orson – I Can't Wait
Samuel Orson is an artist I truly respect just from listening to I Can't Wait taken off his latest album General Feelings of Optimism. He is an experimental New Age artist from Seattle and you can actually also find this song on the 120 Days of Music project in which he composed, arranged, performed, recorded, mixed and uploaded an original track every day for 120 days.
It reminds me of the unwritten oath I've taken to blog about music each day for the past years or make a git commit while working every day (don't laugh), really it's not that easy to keep up with your personal goals when tiredness or life situations hit you during the months. I haven't actually listened to the project yet, however, I'm getting a true blissful tone of the different approaches and feelings the music will unwind. If you love finger-styled guitar playing and enjoy Robbie Basho's moves from another time-lapse… you'll actually find some peace today on the porch with this fine listening.
Ok and another video I fell upon that created an extra smile dimple on my face. I'm getting into the Orson (awesome) vibes!
Bluebirds – Subcultural Love
What drew me instantly to the Subcultural Love of Edinburgh's four-piece Bluebirds are the influences that range from the brilliance of Nick Cave to the unorthodox, brutally honest Bukowski mindset jiggling through the lyrics. Rattling bones on the faith line.. and it's wet and dark, it's punk love songs and it's kicking more alive than ever! A brilliant debut of volume over intensity….
Weinf – Kafka On The Shore
Words in "Kafka On The Shore" by Haruki Murakami
Picture drawn by Berta Wallace
I
'm no stranger to 22 year old 
Weinf
, however at the time of my
first blog post
 abouts his music I really loved, I didn't know he was going through a rough phase in his life with chemo. That came after our online messages keeping in contact every now and then. I have been blessed the past years to connect with beautiful people I admire and respect with their creativity sharing the same music passions.
Weinf
is a psychedelic-rock super hero recovering from all the bad shit that sometimes happens for no reason (well that was a first no-no word for me on the blog) and he has a newest release
Purple Bird and Other Strange Songs
 on
Custom Made Music
.I have to buy one of the three limited cassettes left! Last time I checked his facebook page he was touring in beautiful NYC and Paris, so let's see if he can come to Greece so we can raise our beers to life and friendships! Keep on rocking with your band mate! Waiting for the next adventures…
The Warp/The Weft – Briars
Poughkeepsie-based hard chamber rock quartet The Warp/The Weft just released "Briars" off their forthcoming album Mapping an Absence out 7/29/17 via Admirable Traits Records. They are active since 2012 in and beyond New York's Hudson River Valley. You can find more about them here. The track is beautiful and mesmerizing, just like watching a flower starting to unfurl, setting your ships to sail into the myths of the modern day in an avant-garde way.
Connect via        
Support giveitaspin!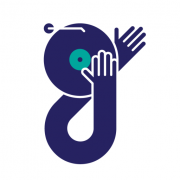 give it a spin
An independent award-winning outlet that supports the arts, people, & culture. If music is your thing — what are you waiting for? Give it a spin!