The gravity of the 8th planet from the Sun is 110% that of Earth's; although one might find it difficult to apply on an ice giant. On the newest track from creators As Clouds Form, aptly titled 'Gravity On Neptune', we explore this celestial landscape with intrigue & majesty, basking in its relative mystery & intrigue.
With an 80's-esque synth aesthetic, there is a post-X-Files/ Twin Peaks-ishness here that immediately transports to the sci-fi universe. Whirling arpeggios dance along an enigmatic melodiousness, as the greater texture conjures the sentiment of faint rings to our planetary exploration. By proxy, one can easily find themselves acutely aware of their surroundings, & distantly observant of the greater cosmotic sphere. You're present in the far reaches of the solar system, yet simultaneously viewing from the deep in the chasms of your own mind.
'Gravity On Neptune' is a splendid piece of art, worth every second of your passing time. Do yourself the favor of taking part in further explorations from As Clouds Form: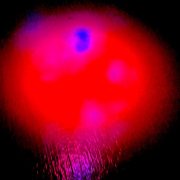 Charles Davis
Charlie is an audial adventurer, a cultivator of lands, and a time/space explorer. You can find him as @doghousecharlie or @greatwaveband on Bandcamp!